Frederick
Thomas
Sibson
Martha
Lydia
Sibson
John
Gaylord
Sibson
Carolyn
Louise
Sibson

Caroline
Elizabeth
Whittlesey
Mattie
Whittlesey
Clarance
Henry
Whittlesey
Martha
Whittlesey
Elias
Larson
Whittlesey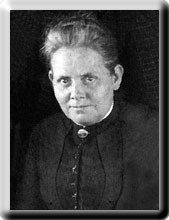 Fredericka (Whittlesey) Sibson
Click picture to see with family (From left to right: Frederick T. Sibson, Jr., Frederick T. Sibson, Martha L. Sibson, Clarance W. Sibson (in back), Fredericka (Whittlesey) Sibson, Jack G. Sibson (baby), Pearl Sibson)
Fredericka Mortimer Whittlesey
Born: July 11, 1851 at Rochester, Monroe County, New York
Married: December 24, 1873 to Frederick Thomas Sibson at Rochester, Monroe County, New York
Died: May 16, 1907 at Syracuse, Onondaga County, New York

FROM "THE SLOOPERS--THEIR ANCESTRY AND POSTERITY" by J. Hart Rosdail:

"Of the Frederick C. Whittlesey children, Fredericka was the oldest, and she apparently like the first name very much, because she married a man named Frederick Sibson. He was the eldest of four born to Thomas and Martha Beeson Sibson at Nottingham, England. Frederick was married before and had settled in Rochester where he was in the lime and cement business. Later he had gone to Syracuse as a telegraph operator and then had been station ticket agent for the New York Central. During the Civil War he handled messages and contacts for important Army people. With Fredericka he lived in Syracuse, in a nice home on the heights overlooking the city, where he enjoyed gardening and flowers. However, after their death, both of the Sibsons were buried back in Mt. Hope Cemetery, Rochester. Fredericka had been a member of the Presbyterian Church there."

Verified Transcript from the Register of Deaths, New York State Department of Health:
Date of Death, May 16, 1907, Register No. G-4777; Place of Death, Hospital of the Good Shepard, Syracuse NY; Name of Deceased Frederica M. Sibson; age 54, married. Birthplace NY State; here 34 yrs.; Father's name, Fred'k C. Whittlesey; birthplace Mass.; Mother's Maiden Name, Lydia G. Larson, her birthplace NY State; Immediate cause Cerebral Embolism due to Pneumonia; Medical Attendant Wm. G. Hinsdale, Place of Burial Rochester NY; Date May 19, 1907; Undertaker Fairchild & Fancher.