Kyle
Frederick
Holmes
Daniel
Thomas
Holmes


Karen Lee
Carlson

Steven T.
Holmes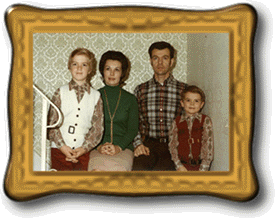 From left to right: Me, Jill Sibson Holmes, R. Thomas Holmes, Steven Thomas Holmes
I built this site in 1997 and haven't had much time to do anything with it since...so it is more than a little embarrassing. However, I leave it up because people with common ancestors still contact me based on the information they find here. Our research on these families has continued since 1997 and this site does not reflect all of our latest findings. For that reason, please don't hesitate to email me if you think there might be a connection that you don't see here.
I have picked this picture, complete with groovy 70's duds, to begin what I hope will be an entertaining and informative tribute to my ancestry. For now, there is no plan to cram every bit of the genealogical data that we've accumulated onto this site. But I hope that what it lacks in depth it will make up for in breadth. For instance, I will include pictures of most individuals through my great-great-grandparents, and in some cases beyond that. Someday, perhaps the site will grow to include each of the almost 8000 individuals that are currently in my database. But until that time I hope that you'll enjoy the site in its present state, for it's putting meat on the bones of your ancestry that really makes it fun.
If you have arrived at this site via a search engine and are not sure if your ancestor is listed please take advantage of the search tool and enter the surname(s) that you are looking for. The tool will provide links to those pages within the site that contain a reference to that name.

Scott Alan Holmes
Born: 1963 at US Army Hospital,
Camp Wolters, Parker County, TX
Married: October 28, 1989 to Karen Carlson at Calvary Episcopal Church, Flemington, New Jersey
Steven Thomas Holmes
Born: 1966 at Mercy Hospital, Springfield, Clark County, OH
Married: February 14, 1990 to Dolly
Latchford at Rochester, Monroe County, NY
This site is a tribute to Jill Holmes Russell, who got me hooked on genealogy and gave me a great foundation on which to build; to Russell Ditmars Holmes who gave us a headstart on the Holmes family; Jill Holmes Russell and R. Thomas Holmes for making me who I am today and their ancestors for giving me something to do with my "free" time.
©1997-2014 Scott Holmes, All Rights Reserved